Other Polycarbonate Products
Polycarbonate is a polymer which has its own very unique blend of desirable properties. The main uses for the polymer is to give it any shape by processing it in different ways which can include a number of different processes such as Injection moulding, blow moulding, extrusion and also thermoforming. Our polycarbonate roof sheeting are manufactured by the process that is extrusion.
Many polycarbonate roof sheets are mainly named transparent steel, this is because of their amazing impact resistance with their glass like clarity.
Polycarbonate sheets possess superb impact strength (Virtually Unbreakable).
Excellent flexural strength hence can be cold curved or even cold bent into simple shapes.
Very high light transmission of upto 90%.
Superlative fire performance (Self extinguishing) and TAC approved.
Light in weight hence easy to handle & install.
Available in tailored lengths, hence minimum wastages.
High temperature tolerance from -40°C to +130°C).
Excellent thermal and electrical insulation properties.
Read more about Polycarbonate Sheets
Multiwall Polycarbonate Shapes
Buy Multiwall Polycarbonate Shapes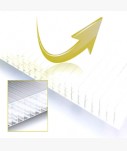 IR Gold Cut To Size Polycarbonate Sheets
Buy IR Gold Cut To Size Polycarbonate Sheets
20mm Polycarbonate Sheet Standard Rectangles
Buy 20mm Polycarbonate Sheet Standard Rectangles
Blue IR ST 35mm 7 Wall Polycarbonate Sheet
Buy Blue IR ST 35mm 7 Wall Polycarbonate Sheet
Discounted Polycarbonate Sheet
Buy Discounted Polycarbonate Sheet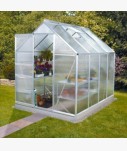 Greenhouse Polycarbonate Replacement Sheets
Buy Greenhouse Polycarbonate Replacement Sheets
Mirrored Sheeting
Buy Mirrored Sheeting
2 UV Solid Polycarbonate Cut To Size External
Buy 2 UV Solid Polycarbonate Cut To Size External
Carports & Canopies
HUGE range of carports and canopies including door canopies. From Maxiport canopies to large porch canopies.
Read more »