The Beautiful, Strong and Secure door that is 25% more Thermally Efficient than the Competition
Built around a belief that beauty doesn't have to compromise performance, WarmCore aluminium folding sliding doors were created out of a desire to combine the desirability and durability of aluminium with unparallelled insulation. The orange thermal core - hidden away in the finished doors - is key to why WarmCore doors are 25% more thermally efficient than traditional aluminium systems.
built with a Revolutionary thermal core at its heart
Strong and secure, WarmCore doors come with class leading security built in, backed by a comprehensive 10 year product guarantee, reinforced by the ERA Five Star security guarantee. Inwards or outwards opening doors up to 6m wide, with as many as 7 opening sashes glide along custom designed tracks. While a wealth of colour, style and configuration options help you choose the perfect warm, secure and beautiful WarmCore door for your home.
---
Strong Construction built for Unparallelled Security
Keeping you and your Home Safe
From the unique 5 point lock, designed to run the full length of the door sash, to the high strength hinges and rollers; each element of the WarmCore door combines to ensure optimum security.
WarmCore's aluminium construction, custom-made roller assemblies - sitting deep within the top and bottom tracks - and extruded aluminium hinges make them inherently strong and secure. Added security features such as integral dog bolts bind the door sashes together when closed, protecting against forced entry.
A custom designed door lock, available on no other door system, uses a 5 point locking system with 3 opposed hook locks and twin shoot bolts - that engage fully into the aluminium top and bottom tracks - helping keep you and your family safe and secure.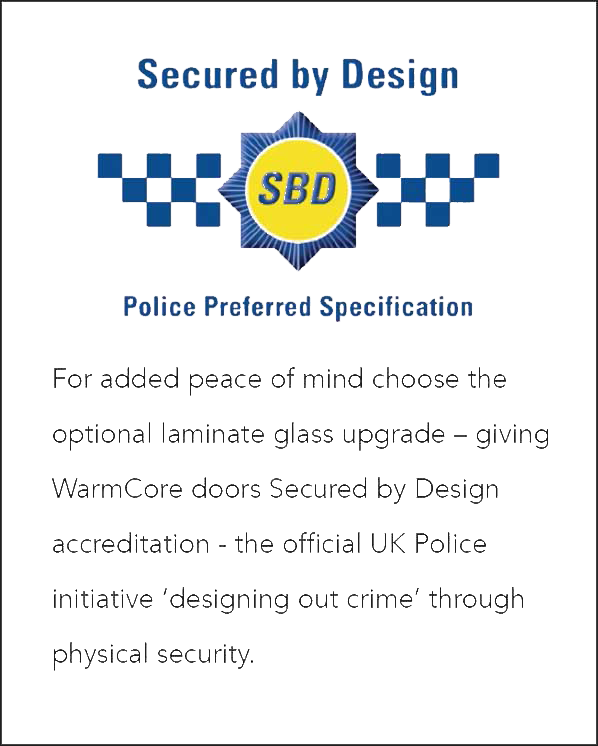 Every WarmCore door is independently certified to PAS24:2012, the benchmark in enhanced security performance requirements for doorsets and windows in the UK.
---
Peace of Mind
From the anodised finish of the hardware - suitable for coastal use - to the 60-80 micron powder coat finish on the aluminium (marine grade is 40 microns thick), WarmCore folding sliding doors have been designed to stand the test of time. All fixings used are stainless steel - chosen to resist corrosion - and tough extruded aluminium hinges, along with the quad-wheeled track rollers are precision engineered to perform consistently every single time, year on year.
---
Style Options
Your door, your way
Whatever the style of your home, WarmCore folding sliding doors have the options that enable you to create the door that matches your needs.
Available in a choice of 4 hard-wearing powder coated finishes, WarmCore's unique composite construction enables you to choose a different colour for the interior of your door from the outside, at no extra cost.
There is also a choice of 4 external aluminium designs for the door sashes, 4 threshold options and a choice of 3 handle finishes, Matt Black, Brushed Graphite and Satin Silver.
The following pages detail the options available, to help you build your perfect door.
Colour - your choice inside and out
Choose a different colour inside and out - at no extra cost
Available in a choice of 4 powder coated colours, WarmCore allows you to pick a different colour for each side of your door - at no extra cost. From contemporary Anthracite Grey to Heritage Cream, your choice helps define the personality of your door and helps match the architectural style of your home. Want grey outside with white inside to leave you free to change your interior in the future – with WarmCore that's no problem.

---
external sash styling

A choice of 4 external aluminium door sash designs, ranging from a contemporary pencil round to a decorative sculptured look, enables you to personalise your door or echo the style of your existing windows.
Pencil round 1, Decorative 2, Square 3, Chamfered 4
---
Threshold options
WarmCore doors come with a range of threshold options, including ultra low Part M compliant aluminium thresholds that help avoid trip hazards. Alternatively if you have a step down from your door opening a choice of sills is also available. Configurability is key and you can be confident that WarmCore has the right option for your home.
Aluminium low threshold 1, 150mm sill 2, 120mm integrated sill 3, Outer frame 4
---
Performance glass upgrade
high performance, easy clean glass
Celsius Clear insulated glass is available as an optional upgrade on WarmCore folding sliding doors. This unique high performance glass utilises a Low-E and solar control coating, with an Argon filled cavity, to limit the amount of UV and heat that passes through the glazed unit, giving the ultimate in thermal control, whatever the weather.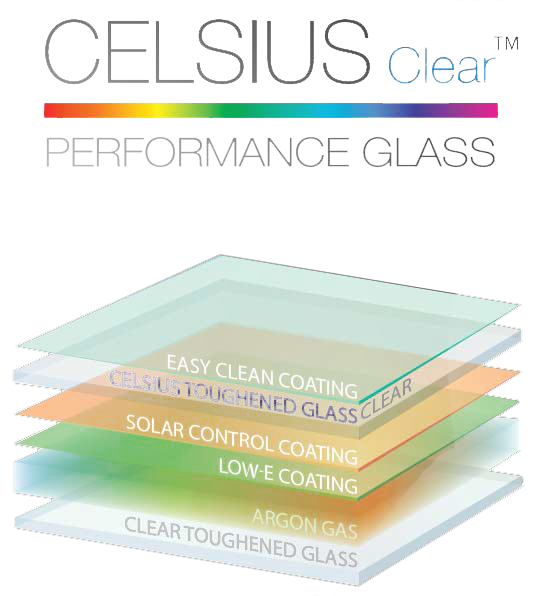 keeps you warm in Winter, and Cool in Summer
Easy Clean technology has also been added to reduce maintenance requirements. Utilising a coating that lasts the lifetime of the glass, dirt and grime simply washes off with normal rain, rather than sticking to the glass.
---
If you require any more information about our Warmcore range please don't hesitate to give us a call on 01482 352 932