excellent customer reviews
Gutter Brush Hedgehog Twister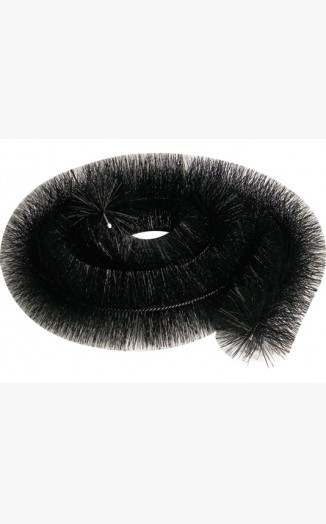 Gutter Brush Hedgehog Twister

- Gutter Accessories

4 Metre In Length
FloPlast GutterBrush
FloPlast GutterBrush

FloPlast are pleased to announce the launch of our NEW GutterBrush.

FloPlast GutterBrush is a gutter filter that fits easily into your rainwater system, designed to keep it clear from any debris such as moss and leaves all year round, whilst still allowing water to flow freely.

Installation:
Remove any debris.
Lay the GutterBrush in the gutter ensuring it fits securely under the roof tiles.
Cut where required (where two brushes meet, simply butt the ends together to ensure there are no gaps).
Benefits:
Simple to install.
FloPlast GutterBrush will flex to fit virtually any shaped gutter system.
Prevents debris such as moss/leaves/twigs/seeds from blocking the gutter.
Made from high quality Polypropylene filaments securely fixed into a flexible central rust-free stainless steel core.
Low maintenance.
Available in black.
FloPlast recommend that GutterBrush is jet washed once a year.
Files:

lastGutterBrushL...pdf
Product

Snow / Tile Guard 2m x 150mm

Files:
_Tile Guard_2005.pdf

Snow/Tile Guard Bracket

Gutter Brush Hedgehog Twister
4 Metre In Length

Files:
lastGutterBrushL...pdf

FloDrain Domestic Channel Drainage
3x1mlength EndCap and Outlet Garage Pack

Files:
nel Installtion_...pdf

Bird Comb 1 Metre

8x1-1/4 Gutter Screws Qty 200

Water Butts

Files:
r Butts_9406.pdf

100L Slim Water Butt Stand

200L Standard Water Butt Stand

Rain Diverter For Round & Square

Leaf Protection System 5m Pack

Files:
uard Instruction...pdf

Drain Guard Black

Roof & Gutter Sealant

Balloon Guard Black
© 2019 ND Plastics. All rights reserved