excellent customer reviews
Liniar 3 Metre Projection(away from wall) Kit Roof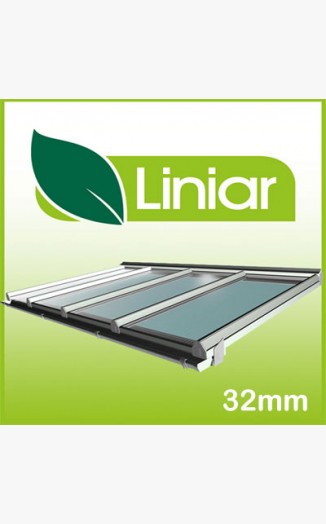 Liniar 3 Metre Projection(away from wall) Kit Roof

- 32mm Liniar Self Support Roof Kit

32mm Thickness

Why Choose Our Liniar Roof Kits

British made - Liniar profiles are extruded in Derbyshire at the HL Plastics manufacturing plant, which boasts the largest mixing plant in the UK. Continued investment in the factory and facilities keeps Liniar at the forefront of innovation.

No more glazing slip - The unique patented Glazing Stop eliminates 100% of glazing slip on both glass and polycarbonate, which can be time consuming and costly to repair. The unique patented Valley Glazing Stop also secures against slippage in valley applications - and both are simple and quick to install. Unlike other roofs, no double sided tape is needed to keep the glazing in place!

No more leaks - Liniar's overall roof design and engineering provides excellent sealing, eliminating leaks - keeping water out and customers happy. This is achieved with the help of the patented, pre-shaped closed cell permanent Memory Foam, with a pre-applied primary seal, and a ridge cap which attaches leaving no screw holes for water ingress. The Liniar roof is BBA weather tested to 300 Pascal, equivalent to 113 inches rain in 24 hours (UK average 34 inches a year) and a force nine gale.
| | |
| --- | --- |
| | |
| Squeeze it... | Twist it... |
| | |
| | |
| Squash it... | Sit on it... |
| | |
| | |
| Wheely weak... | Wheely strong... |
Easy to install - The Liniar roof is easy and quick to install. Even the glazing bars can be fitted to the D-ring at the radius end quickly and easily thanks to the unique patented lock which just clips on.
Fully on-site adjustable - The Liniar roof is easy to fit fully with tolerance engineered in. The roof is designed to be fully site adjustable, whether attaching bars at either end to the ridge and eaves beam, or securing jack rafters to hip bars.
Better for the environment - Liniar frames have always been 100% lead-free, well in advance of legislation. Furthermore, all elements of a Liniar roof are fully and easily recyclable at the end of its life.
If you require any assistance please give us a call on 01482 352932
© 2019 ND Plastics. All rights reserved