excellent customer reviews
PVC Ridge For 3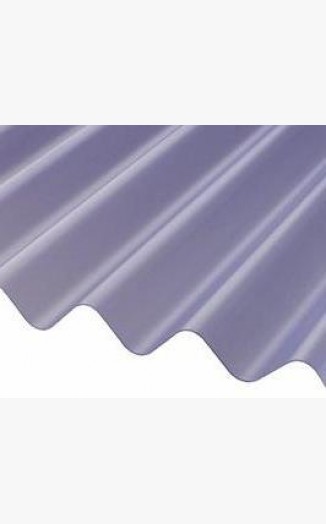 PVC Ridge For 3

- Pvc Corrugated Plastic Sheets

Same Width As A Sheet

PVC Ridge For 3. PALRUF PVC corrugated sheets are uniform throughout and exhibit outstanding resistance to a broad range of chemicals, extreme weather conditions and physical abuse while remaining corrosion free. Due to these exceptional properties, PALRUF sheets are a perfect solution for roofing, siding or cladding in industry, construction and agriculture.
Product

Corrugated Pvc Lightweight Sheet - Clear
0.8mm / 755mm / 720mm

Files:
PALRUF_En_Leafle...pdf

Heavyweight - Clear
1.1mm / 755mm / 720mm

Files:
PALRUF_En_Leafle...pdf

Superweight - Clear
1.3mm / 755mm / 720mm

Files:
PALRUF_En_Leafle...pdf

Greca 70 Clear
1.0mm / 765mm / 700mm

Files:
PALRUF_En_Leafle...pdf

Greca 70 Translucent
1.0mm / 765mm / 700mm

Files:
PALRUF_En_Leafle...pdf

Mini 32 Clear
0.8mm / 660mm / 628mm

Files:
PALRUF_En_Leafle...pdf

Mini 32 Translucent
0.8mm / 660mm / 628mm

Files:
PALRUF_En_Leafle...pdf

Big 6 Clear
1.3mm / 1086mm / 1022mm

Files:
PALRUF_En_Leafle...pdf

Flashing Unit
Clear
PVC Ridge For 3
Same Width As A Sheet

Pack Of 10 Fixings For Corrugated Sheeting
(Roughly) 1 Pack Needed Per Sheet

Draught Proofing
Eaves Filler - Packs Of 10

Self Adhesive Flashing Tape
'Lead Alternative', 10 Metre Roll

150mmx 3m Lead Roll/Flashing - Code 4
150mm Wide x 3 Metre Long

150mm x 6m Lead Roll/Flashing - Code 4
150mm Wide x 6 Metre Long

240mm x 3m Lead Roll/Flashing - Code 4
240mm Wide x 3 Metre Long

240mm x 6m Lead Roll/Flashing - Code 4
240mm Wide x 6 Metre Long

© 2019 ND Plastics. All rights reserved