Product
Width & Length
Quantity:
Price: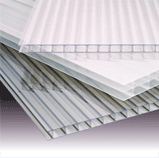 6mm Sunlite Plus Polycarbonate SUNLITE Plus multi-wall polycarbonate sheet includes a unique coating on the internal side that eliminates condensation drip in modern greenhouses. The strength of polycarbonate coupled with an integrated UV resistant co-extruded layer provides a long lifetime of service. The cellular multi-layer structure reduces heating costs in winter while minimizing the detrimental effects of excessive heat in the summer. SUNLITE Plus transmits only beneficial radiation, blocking ultraviolet rays that burn plants, flowers and people.
Standard polycarbonate sheet rectangles. Great for greenhouses, carports, canopies and conservatories. You can buy it to the exact measurements you need, and only pay for that amount, cutting down on wastage and price. Standard polycarbonate rectangles come in range of colours including clear, bronze and opal/white. We have broken down the polycarbonate rectangles into their "ideal usage" making it easier for you, to make sure you buy correct type of polycarbonate for your use,

Example of purchase: select the correct polycarbonate for your use, making sure thickness is correct, click on colour. Enter your measurement. So if you want a sheet 710mm wide by 3800mm long, you can order this size and you will only pay for that size. This cuts down on wastage, and allows you to get correct size without having to cut yourself. Our polycarbonate cutting tolerance is +4mm and -4mm.
---
Ideal For:
Thickness
Click a Colour for price & sizes
Greenhouse Glazing
4mm Polycarbonate Sheet

clear
Greenhouse Glazing
6mm 'Twin Wall'

clear
Car Ports And Canopies
10mm 'Twin Wall'
Car Ports And Canopies
16mm 'Triple Wall'
Car Ports And Canopies
16mm 'Triple Wall'

Heatguard/Opal
Conservatories
25mm 'Multiwall'
Conservatories
25mm 'Multiwall'
Conservatories
32mm 'Multiwall'
Conservatories
32mm Multiwall
Conservatories
35mm 'Multiwall'
Conservatories
35mm Multiwall